If you love your nature documentaries or gardening shows then you'll no doubt be familiar with the time-lapse video. This simple photography technique involves capturing the same scene, one photo at a time, over a matter of hours, days or months – often to stunning effect.
So how easy is it to take a time-lapse video? Follow our five easy steps, and they should prove no hassle at all.
DSLR cameras – our verdict on the latest flagship cameras
Five tips to take the perfect time-lapse video
There's no right way to take a time-lapse video. You can capture an ultra-close-up like the above, go for a wide-angle effort as per our video below, or try for anywhere in between. However you choose to take your time-lapse, the same basic methodology applies.
1) You'll need a time-lapse compatible camera – professional time-lapse videos are shot with a DSLR camera in the RAW photo format, as this allows for the highest quality results. Wikipedia has a good list of time-lapse compatible devices, and you can happily save on memory card space by snapping away in the smaller JPG format if you're not worried about a slight loss of detail. One place where you can't afford to skimp however, is in the use of a tripod…
2) A tripod is absolutely essential – it's crucial that your camera stays in the exact same position while shooting time-lapse video. Only a tripod can lend this kind of stability by providing a sturdy base for your camera – holding the camera steady in your hands simply won't work. Tripod prices start from around £15 and can rise up to as much as £400. For a good value model that's built to last, we'd recommend shopping around the £100 mark.
3) Choose your camera settings wisely – you won't be able to change your camera's settings while shooting time-lapse footage, which can make for some of trial and error in getting the right shot. To avoid too much of this, try and envisage what you want your final result to look like. Set your camera to manual mode and tinker with its focusing, colour and exposure modes until you're happy. Then change its white balance options to suit the brightness of your surroundings.
4) Set the interval timer – how often do you want to take a photo? For the time-lapse video below we shot one every two seconds, but the interval timer on your DSLR will allow you to select whatever option you want. If your camera doesn't have a built-in intervalometer, then you can buy one for as little as £15. Whatever the case, make sure your camera has a full battery as the last thing you want is for it to run out of power.
5) Edit your photos together – now you've taken all your time-lapse photos the last step is to pull them together. This is easily done using the GoPro's free Studio Edit Software, which will automatically make the time-lapse video once you've imported your snaps. For even easier sharing, you can convert this video into a GIF using Imgflip – another free service.
All-in-all, from setting up our tripod and camera, to processing the GIF file, the below time-lapse took just a couple of hours to produce. Please share any time-lapse tips of your own and otherwise let us know how you get on in the comments section.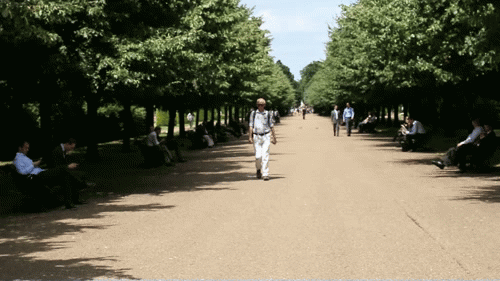 More on this
Best buy DSLR cameras – expert camera reviews from Which?
Compact system cameras explained – how do these camera types differ?
How to buy the best DSLR – what to look for when choosing a DSLR